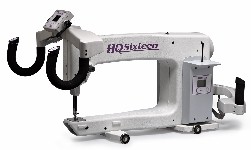 We are an authorized representative for HandiQuilter.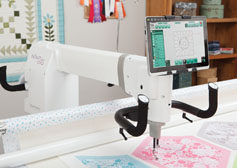 INTRODUCING ... THE NEW Infinity 26" long-arm quilting machine!
Front power switch
Bobbin-thread cutter
Pinpoint needle laser
Easy-Touch Tension™ with stored presets (Patent Pending)
On-screen hand wheel
Synergy Stitch™ regulation with Precision and Cruise modes
Four basting stitch options
Manual stitching mode with three speed presets
Quilting alarm and project timer
Stitch counters
Programmable handlebar buttons
Integrated micro handles
Thread-break sensor with alarm
Bobbin-use estimator with low-bobbin alarm, with up to twenty presets
Needle-stop position control
Internal diagnostics
Handi Accessory Rail
Integrated, adjustable laser light for pantographs
High-speed rotary hook with large-capacity M-class bobbin
Easy needle change with ergonomic thumb screw
User-upgradeable machine software
Four language options: English, French, German and Spanish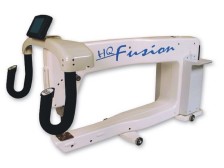 FUSION 24" long-arm quilting machine
HandiQuilter now offers a quality 24" long-arm quilting machine at an affordable price. Using HQ technology, the HQ Fusion has new features and benefits, such as front and back, easy-to-use color touch screens. The precision stitch-regulator provides up to 22 stitches per inch at over 2200 stitches per minute. Everything  -- from your stitch length to the new warm and cool (and UV) LED lights -- is fingertip controlled at the hendlebars. Made with highest quality material, each HQ Fusion is built and tested in the USA. Make an appointment today to give it a test drive at Patchwork Garden.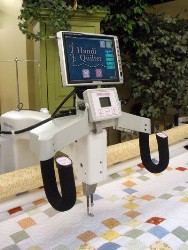 HQ Pro-Stitcher
Check with us for pricing.
8" color touch screen mounted on your HQ Sixteen Stitch Regulated machine
View and manipulate designs on screen
Record your own free motion design or pantograph design
Rotate an existing design
Resize to a specific area
Precisely position a design on the quilt
Repeat your designs both horizontally and vertically
Watch your pattern path before quilting
Back up function if your thread breaks
Set the quilting speed and stitches per inch
And much more...
No additional PC needed to run the HQ Pro-Stitcher (PC needed only for downloading and creating designs)
Fingertip Help menus on every screen
Quilt a pantograph or block pattern with confidence in a few simple steps
Ability to read most available digital quilt patterns
Switch from computerized quilting to free motion quilting in seconds with a flick of the quick release mechanism
Includes exclusive design software by Cabin Logic for designing your own patterns
Easy to dowload your favorite patterns from a USB port
Quick setup; be quilting in no time
---
We offer a full line of HandiQuilter products, including the HQSixteen, tables, frames, HQ Pro-Stitcher, groovy boards, books, gadgets, and accessories.
We also service Handi-Quilter longarm machines.
That means you receive our support and training with the purchase or rental of a machine.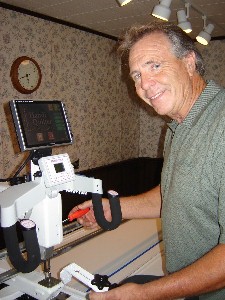 Andy is a service technician for HandiQuilter machines, trained at company headquarters in Utah -- help is just a phone call away.

We won't just sell you a machine and leave you to figure it out for yourself!
Contact us for more information.
10 QUESTIONS TO ASK BEFORE BUYING A QUILTING MACHINE